Community Market offers vendors a way to connect with residents and create a local economy
Organized by founders of Doral Farmers Market
Anyone welcome to sell as a vendor
Sweetwater's Ronselli Park might have a community garden for promoting local agriculture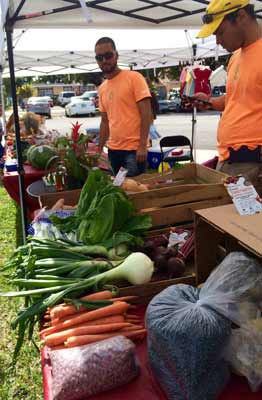 Sweetwater, FL – With the popularity of open-air community markets known as "Farmers Markets" increasing throughout South Florida, a pair of young entrepreneurs have organized a community market in the City of Sweetwater. Locally grown fruits, vegetables, and handmade crafts are just some of the things you can find at the newest community attraction, Sweetwater Community Market.
The Sweetwater Community Market is located on Southwest 114 Ave in front of Mas Canosa Youth Center, between 2nd and 3rd streets. Supported by Sweetwater Mayor Jose M. Diaz, the Community Market meets every Saturday from 10 A.M. to 2 P.M. According to a promotional flyer, the Sweetwater Community Market will bring together vendors that offer "local fruits & vegetables, herbs, spices, honey, plants, bread, pasta, eggs, baked goods… and more".
The organizers of the Community Market, George Mauro and Danny Kaskel, are also the Founders of Doral Farmer's Market. According to organizers, anyone is welcome to set up as a vendor to sell in the open-air market, adding that they will provide a table and a tent at no cost to new vendors (after about the second week, vendors would have to pay a minimal fee of $10). There is a formal application for new vendors.
Kaskel, the grandson of Alfred and Doris Kaskel, founders of what is now known as the City of Doral, FL, also mentioned interest in proposing an innovative idea for a community garden in Sweetwater's Ronselli Park, allowing local residents in Sweetwater to learn about agriculture and sustainability.
The vendors informed us the produce is grown locally in Homestead and Immokalee, a community in Southwest Florida known for agriculture. A small selection of organic vegetables was available for purchase. As an added convenience, credit and debit cards, as well as EBT cards are accepted. Â Although there were few vendors visible upon the time of our visit, the quality of the produce sold at the market was excellent. The smiling vendors and friendly service made us feel good about buying locally and supporting a great cause.
For more information, email the Community Market organizers at sproutchangenow@gmail.com, or contact George Mauro at (954) 732-8573.
You can also visit the Sweetwater Community Market Facebook Page.
(Visited 192 times, 1 visits today)